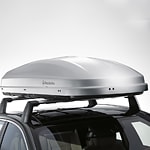 If you need room for cargo in your vehicle, then a roof rack might be the right choice for you. This versatile automotive accessory can help you haul luggage, supplies, or even bicycles. To get the most out of your roof rack, you need to know how to use it properly. The friendly staff at Classic Lawton Chevrolet in Lawton, OK offers these helpful tips.
You want to make sure your roof rack is installed correctly. Most roof racks have a temporary anchor system that involves clips and straps. You need to make sure you install it properly each time you use it.
When using your roof rack to transport cargo, you want to make sure you are doing so correctly. Don't overload it, and make sure any loads are properly balanced. Incorrect usage could lead to damage to your vehicle and whatever you are transporting.